The company
Throughout the years Taxi-Keistad has become the well known taxi company in Amersfoort and it's region.
At the moment we are the oldest taxi company in Amersfoort and the surrounding area.
Ever since 1999 we are offering you our services in this region, like our Schiphol and other airport services, cityrides and many other destinations.
Our fleet consist of a number of very well maintained large and smaller luxury cars.
For groups or extra luggage we have a few taxi buses available for you.
At Taxi-Keistad the drivers are very experienced, helpful and customer friendly.
Something that you will experience as very pleasant during your rides with Taxi-Keistad.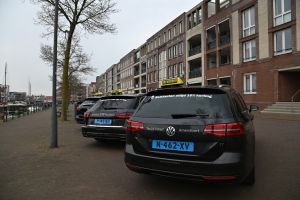 On the following pages you will find an overview of our various services and the associated rates.
We at Taxi-Keistad strive after more than twenty years to still offer you the cheapest rates in combination with the service you are used to with us.
We look forward to your reservation.
Greetings team Taxi-Keistad